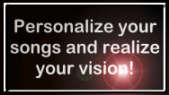 "Phil's drumming and his creative senses are spectacular!"

Dave Pierce - Emmy Award-Winning Music Director/Arranger/Composer for 2010 Winter Olympic Games, Broadway
---
Here's how it works!
The process for users of Pro-tools, Logic, Sonar, Nuendo, Digital Performer, Cubase, Saw, Garageband, and other Mac/PC software applications, is as follows:
(For info regarding the process using other formats please contact Phil directly.)
1. Utilizing email or post send to me an mp3 or WAV file of your song or group of songs. If you have drum ideas please end me a file with your ideas and one with no drums. (If your song was recorded to a click track AKA a metronome then please include your tempo or 'beats per minute'. Be sure to visit the gear page if you're interested in anything signal path related such as microphones, preamplifiers etc.)

2. We preferably talk in person on the phone or Skype and trade our thoughts, perhaps audio examples of your requirements and what you're looking for artistically and in my performance in general.

3. I record your session drum tracks to your specs and send you an mp3 drum proof for your approval and to see what changes, if any need to be made. For examples check out the Audio Samples on the homepage.


4. You listen to and proof the drum performance, if changes are requested I do them and I finalize the tracks.
(NOTE! For your satisfaction and protection, NO payment is made by you until you have the desired performance and sonics and are completely satisfied.)

5. You then sign off on the final product with your approval.

6. Payment is made at this point by you via


7. Payment is received by me and at this point the finalized drum files are then uploaded via a file transfer site such as WeTransfer.com for download by you anywhere in the world with high speed internet. I can also send via courier or post. (If you'd prefer a stereo mix of the drum performance with existing effects and EQ etc, I can also provide you with that. Untreated individual drum files is the standard form of delivery.